DIPLOMA  MODOS DIGITALES
   25-50-75-100-150-200-250-300 PAISES.
1.- El diploma podrá ser solicitado por cualquier radioaficionado o SWL que sea miembro de EUROPEAN ROS CLUB.
2.- Podrá obtener el Diploma  25-50-75-100-150-200-250-300 todo aquel que acredite contactos con un mínimo de 25 países
.
3.- El diploma se concederá en  MODOS DIGITALES 
4.- Serán válidos los QSO realizados con posterioridad al 1 de Enero de 2010.
4a.- Las bandas de aplicación serán las de 2,4, 6, 10, 12, 15, 17, 20, 30, 40,60,70, 80 ó 160 metros, y en el modo expuesto en el punto 3.
5.- Se consideran países todos los estados independientes de hecho (tengan o no reconocimiento internacional).
6.- Se concederán DIPLOMAS cada 25 países 50-75-100-150-200-250-300
7.-Estas bases no son definitivas y pueden ser modificadas en cualquier momento por la organización del diploma siempre que existan motivos para ello. Las decisiones que adopte la organización del diploma, para el correcto funcionamiento del mismo, deberán ser acatadas porel participante.
Miembros no EPC por favor descarguen el software UltimateAAC necesario desde el sitio web www.epc-mc.eu
ELIGE el menú Descargas, que el menú UltimateAAC, que el menú Windows, MacOS X o Linux, depende de su sistema operativo. Después de la instalación, debe completar los datos solicitados. Eso es todo … en el Centro de solicitud de premios Ultimate (ver foto) eliges el Club al que solicitas un premio.
Para cualquier ayuda necesaria, haga clic en Video Tutorials en el sitio web de EPC-MC.
En caso de tener problemas técnicos para solicitar nuestros premios, ¡utilice siempre la versión más reciente del software UAAC disponible!
¡NO HAY MÁS PREMIACIÓN POR E-MAIL!
Un agradecimiento especial a EPC y Heinz, DK5UR por apoyarnos con su software UltimateAAC, y un tiempo infinito programandolo para nosotros, este es el verdadero "HAM Spirit"

Banda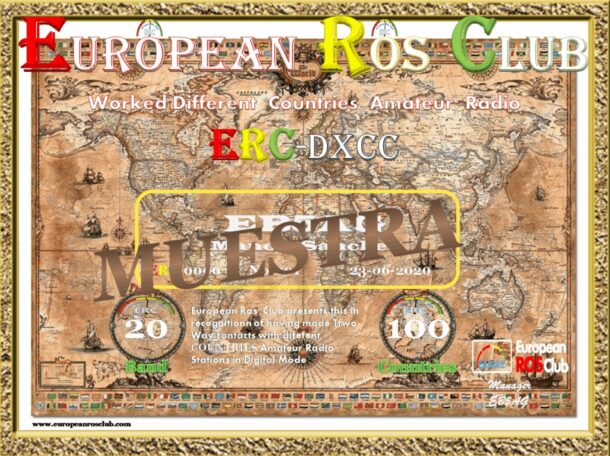 Mixto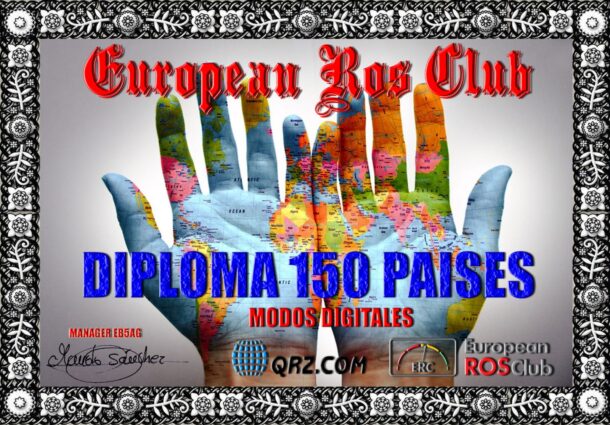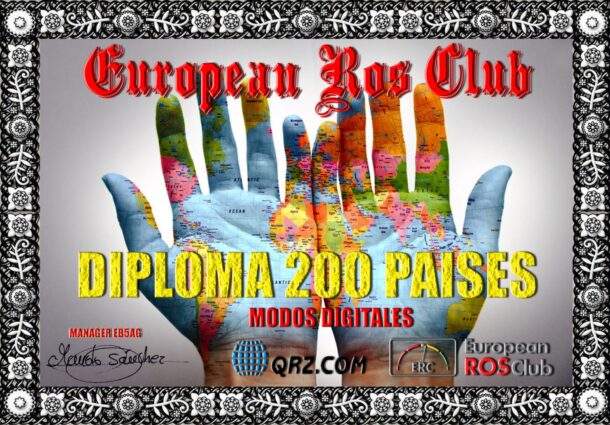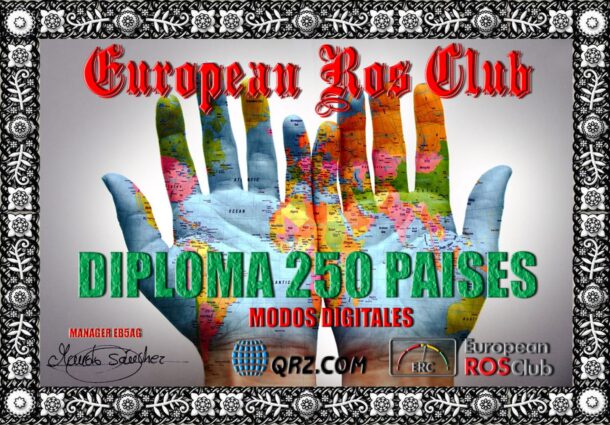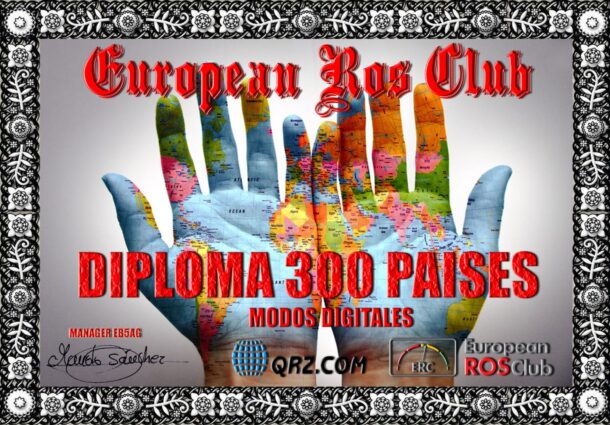 DIPLOMA DIGITAL MODE
 25-50-75-100-150-200-250-300
COUNTRIES WORKED.
1. The certificate may be requested by any amateur or SWL who is a member of EUROPEAN ROS CLUB.
2. You can obtain the Diploma  25-50-75-100-150-200-250-300 anyone who contacts attesting a minimum of 25 countries.
3. The diploma will be awarded in DIGITAL MODE 
4. shall be valid QSO made after the January 1, 2010.
4a.- bands application will be 2, 6, 10, 12, 15, 17, 20, 30, 40,60,70, 80 or 160 meters, and in the manner set out in paragraph 3.
5. All Independent States countries actually are considered (with or without international recognition).
6. DIPLOMAS each be awarded -25-50-75-100-150-200-250-300  countries.
9. The diploma will be sent by e-mail in A4 size in JPEG format
10. These bases are not final and can be modified at any time by the organization diploma whenever there are grounds for it. Decisions taken by the organization of diploma, for the proper functioning, should be respected Porel participant.
Non-EPC members please download the necessary UltimateAAC software from the website www.epc-mc.eu
CHOOSE the Downloads menu, which the UltimateAAC menu, which the Windows menu, MacOS X or Linux, depends on your operating system. After installation, you must complete the requested data. That's it … at the Ultimate Reward Request Center (see photo) you choose the Club to which you request a prize.
For any help needed, click on Video Tutorials on the EPC-MC website.
If you have technical problems to request our prizes, always use the most recent version of the UAAC software available!
THERE IS NO MORE PRIZE FOR E-MAIL!
Special thanks to EPC and Heinz, DK5UR for supporting us with his UltimateAAC software, and endless time programing it for us, this is true "HAM Spirit"