ERC-WG-USA RULES

Director of awards EB5AG

In recognition of the two-way international ERC amateur radio communication,
the DIGITAL MODE
The Digital Mode Club (ERC) issues Worked-USA certificates -Stations-Award for
Amateur radio stations of the world.
The qualification for the ERC-WG-USA award is based
in an examination conducted by the ERC- WG-USA Award Manager, of QSOs that the
applicant has contacted amateur radio station USA different Grid
Locators.
with a minimum of  15 different Grid Locators.
. All contacts must same country.
Band endorsements for 6, 10, 12, 15, 17, 20, 30, 40, 60,80 and 160m
Levels:ERC-WG- USA- 
LEVEL- 1-15-25
LEVEL-2-50-100
LEVEL-3-100-150
LEVEL-4-200-250
LEVEL-5-300-350
LEVEL-6-400-450
EA8IM DESIGN
A special thanks to EPC and Heinz, DK5UR for supporting us with their UltimateAAC software, and an infinite time programming for us, this is the true "HAM Spirit"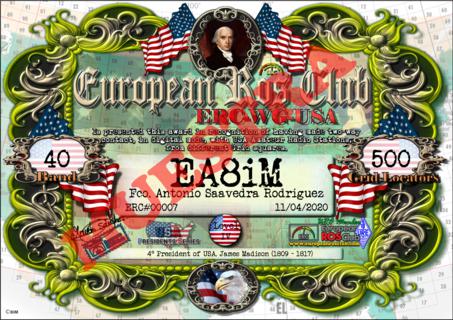 (Band endorsements si available)
NO  EPC members please download the necessary UltimateAAC software from the website www.epc-mc.eu
CHOOSE the Downloads menu, which the UltimateAAC menu, which the Windows menu, MacOS X or Linux, depends on your operating system. After installation, you must complete the requested data. That's it … at the Ultimate Reward Request Center (see photo) you choose the Club to which you request a prize.