EG5WRD
Organizado por la Asociación
EUROPEANROSCLUB (ERC) Y La Sección URE de alicante (URA)
Con el objeto de fomentar la radio afición y Modos digitales se organiza este DIPLOMA EG5WRD…dia mundial del radioaficionado
Con arreglo a las siguientes bases:
Fecha y hora: Desde las 00:00 horas EA del 3 de abril hasta las 00:00 horas EA del día 20 de Abril de 2020.
Ámbito: Todas las estaciones del mundo en posesión de la correspondiente licencia de radioaficionado y SWL.
Bandas:
HF – Todas las bandas de HF
Modos:

MODOS DIGITALES

.

y SSB
Llamada: "CQ, EG5WRD DIA MUNDIAL DEL ADIOAFICIONADO
IMPORTANTE: Se puede repetir la banda el mismo DIA pero no se puede repetir el modo
Diplomas: Habrán 3 diplomas
BRONCE – 2 CONTACTOS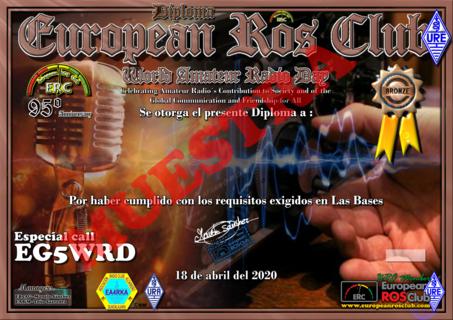 PLATA – 3 CONTACTOS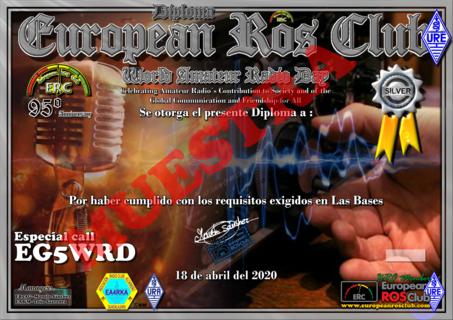 ORO- – 5 CONTACTOS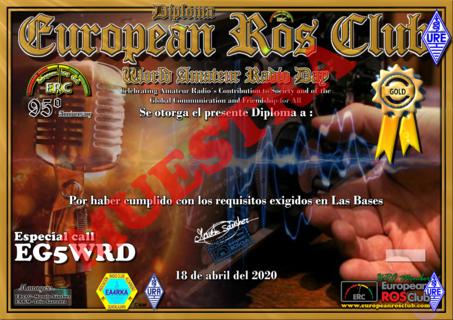 Agradecimiento;
EA4RKA – Radio Club Alcarreño
EA5RKE- Europeanrosclub ( ERC)
EA5URA – Unión de Radioaficionados de Alicante
EA3RKM – Mike Delta Victor Dx Group
EG5WRD
Organized by the Association EUROPEANROSCLUB (ERC) and the URE Section of Alicante (URA)
In order to promote amateur radio and digital modes, this EG5WRD DIPLOMA is organized … World Amateur Day
According to the following bases: Date and time: From 00:00 hours EA on April 3 until 00:00 hours EA on April 20, 2020.
Scope: All stations in the world in possession of the corresponding amateur radio license and SWL. Bands: HF – All HF bands Modes: DIGITAL MODES.Y SSB
Call: "CQ, EG5WRD WORLD DAY OF THE ADDITIONAL IMPORTANT: The band can be repeated the same DAY but the mode cannot be repeated Diplomas: There will be 3 diplomas
BRONZE – 2 CONTACTS
SILVER

– 3 CONTACTS
GOLD

– 5 CONTACTS
The EG5WRD will be active in all possible bands and modes.
Gratitude;
EA4RKA – Radio Club Alcarreño
EA5RKE- Europeanrosclub (ERC)
EA5URA – Alicante Amateur Radio Union
EA3RKM RADIO CLUB MDV