IX ANIVERSARIO EUROPEANROSCLUB ERC
MODOS DIGITALES
1.- El diploma podrá ser solicitado por cualquier radioaficionado y SWL.
2.- Podrá obtener el Diploma todo el que acredite un mínimo de 2 contactos en diferentes bandas con el indicativo especial
EG5ERC.
SE PUEDE REPETIR EL CONTACTO EN LA MISMA BANDA Y MISMO MODO PERO NO EL MISMO DIA
DIPLOMA
BRONCE- 2 CONTACTOS
PLATA- 5 CONTACTOS
ORO- 8 CONTACTOS
3.- El diploma se concederá en
MODO DIGITALES
4.- Serán válidos los QSO realizados con entre el 5 de DICIEMBRE a las 00:00 horas UTC hasta el 22 de DICIEMBRE a 23:59 horas UTC de 2019.
5.- Las bandas de aplicación serán las de 2, 6, 10, 12, 15, 17, 20, 30, 40,60, 80 ó 160 metros, y en el modo expuesto en el punto 3.
6.-Las listas tienen que enviarse por correo electrónico, en formato Adif o Cabrillo a la dirección; diplomaserc@gmail.com mandar nombre y apellidos para confeccionar el diploma
7.-El diploma se remitirá por e-mail en tamaño DIN A4 en PDF
8.-Estas bases no son definitivas y pueden ser modificadas en cualquier momento por la organización del diploma siempre que existan motivos para ello. Las decisiones que adopte la organización del diploma, para el correcto funcionamiento del mismo, deberán ser acatadas por el participante.
9.-
LA RECEPCIÓN DE LOS LOG HASTA EL DIA 31 DE DICIEMBRE
Presidente fundador Manager y Diseño
EB5AG-MANOLO EA8IM – TOÑO
Dar las gracias por su participacion:
URE
RADO CLUB LA ALCARREÑO
UNIO DE RADIO AFICIONADOS DE ALICANTE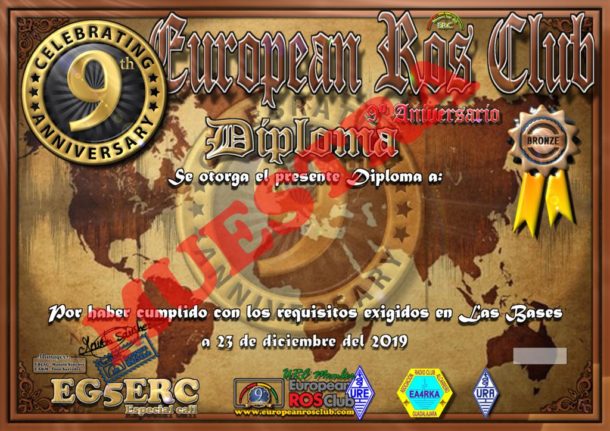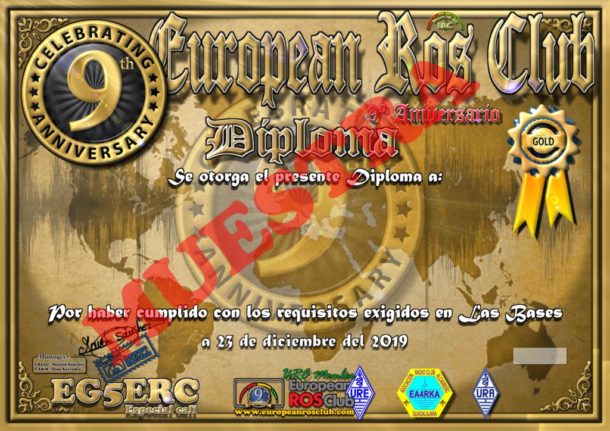 IX ANNIVERSARY EUROPEANROSCLUB
ERC
DIGITAL MODES
1.- The diploma may be requested by any amateur radio operator and SWL.
2.- The Diploma can be obtained by anyone who certifies a minimum of 2 contacts in different bands with the special code
EG5ERC.
YOU CAN REPEAT THE CONTACT IN THE SAME BAND BUT NOT THE SAME DAY
DIPLOMA
BRONCE- 2 CONTACTS
PLATA- 5 CONTACTS
ORO- 8 CONTACTS
3.- The diploma will be granted in
MODE DIGITAL .
4.- The QSOs made between the 5 th of DECEMBER at 00:00 hours UTC until the 22 st of DECEMBER at 23:59 hours UTC of 2019 will be valid.
5.- The application bands will be those of 2, 6, 10, 12, 15, 17, 20, 30, 40,60, 80 or 160 meters, and in the way described in point 3.
6.-Lists must be sent by email, in Adif or Cabrillo format to the address; diplomaserc@gmail.com send name and surnames to make the diploma
7.-The diploma will be sent by e-mail in DIN A4 size in PDF
8.-These bases are not definitive and can be modified at any time by the organization of the diploma whenever there are reasons for it. The decisions taken by the organization of the diploma, for the proper functioning of the same, must be followed by the participant.
9.-
RECEPTION OF THE LOGS HATA ON DECEMBER 31
Founding President Manager and Design
EB5AG-MANOLO EA8IM – TOÑO
Thank you for your Collaboration :
Dar las gracias por su participacion:
-URE
-RADO CLUB LA ALCARREÑO
– UNIO DE RADIO AMATEURS OF ALICANTE