Europeanrosclub (ERC) and the Section of URE Novelda  
I organized the Joint Diploma in commemoration of the
Tour of SPAIN 2017
1- Participation

Date 19 August to 10 September 2017

 in all the HF bands from 10 to 160 meters
2-Modes

 DIGITAL,SSB ,CW,DMR-TG-EA5
3- Special Station

EG5VCE
4- To get the DIPLOMA JOINT need to contact the special station indicative

EG5VCE
4 contacts should be on different days can be repeated and how the band but not the same day.
 For stations

SPAIN 5 contacts in any band and mode
– Other stations

WORLD 2 contacts in any band and mode.
5 There are to send an E-mail with your call sign, name surname to prepare the diploma, as well as data from different contacts
the e-mail.

diplomas@europeanrosclub.com
6. To see if your e-mail has been received you will be answered by the same means to communicate your e-mail is received correctly. if you do not receive. You have to send it again
7. QSL , QRZ.COM, E-QSL, LOTW 
8-privilage of the log until the day October 11, 2017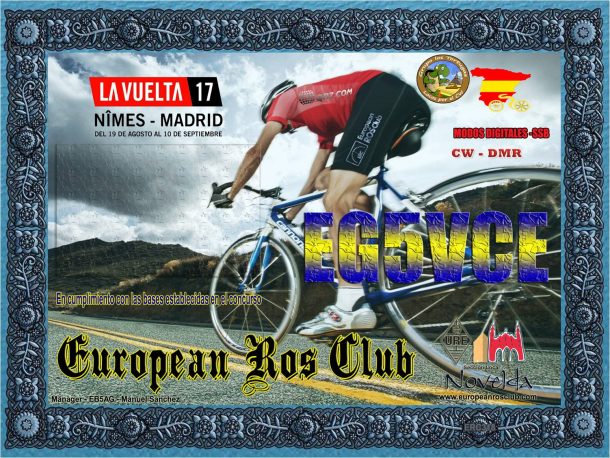 Europeanrosclub ( ERC ) y La secion de URE de Novelda
  organiza el  Diploma Mixto  en conmemoración de la
Vuelta Ciclista de ESPAÑA 2017 
1- Fecha de participación del

 19 de agosto hasta el 10 septiembre de 2017

 en todas la bandas de HF de 10 a 160 metros 
2- Modos    

DIGITALES

,

SSB,CW-DMR-TG-EA5
3- Estación especial EG5VCE 
4-  Para conseguir el DIPLOMA MIXTO hay que contactar con la estación especial con  indicativo

 

EG5VCE 
4  Los contactos deben ser EN DIFERENTES DIAS  se puede repetir la banda y el modo pero no el mismo día. 
 Para la estaciones de  

ESPAÑA 5 contactos en cualquier banda y modo 
– Resto de estaciones

del MUNDO 2 contactos en cualquier banda y modo. 
5 Hay que mandar un E-mail con su indicativo, , nombre  apellidos para la confección del diploma, así como los datos de los diferentes contactos
6.-  Para saber si su E-mail se ha recibido se le contestará por el mismo medio  comunicarte que se recibio su e-mail correctamente. si no lo recibes. tiene que mandarlo nuevamente 
7.-

 

QSL , QRZ.COM, E-QSL, LOWT, 
8-

Rececion de los log hasta el dia 11 de octubre de 2017  
Presidente fundador ERC

     EB5AG                                                                  
 Manolo Sanchez