Europeanrosclub (ERC)   
 organized the Joint Diploma in commemoration of the
Tour of SPAIN 2018
One more year the ERC group airs the special call sign EG5VCE to make known to the world some of the most important sports in Spain
THE RETURN CYCLIST OF SPAIN 2018
A diploma for this activity has been made
Thank you for your participation:
-GRUPO LOS TORTUGAS
-URE
-QRZ.COM
-RADIO CLUB LA RIOJA
-UNIO DE RADIO AMATEURS OF ALICANTE
BASES
1- Participation

Date 24 August to 17 September 2018

 in all the HF bands from 10 to 160 meters
2-Modes

 DIGITAL,SSB ,CW,DMR-TG-EA5
3- Special Station

EG5VCE
4- To get the DIPLOMA JOINT need to contact the special station indicative

EG5VCE
4 contacts should be on different days can be repeated and how the band but not the same day.
 For stations

SPAIN 5 contacts in any band and mode
– Other stations

WORLD 2 contacts in any band and mode.
5 There are to send an E-mail with your call sign, name surname to prepare the diploma, as well as data from different contacts
6. To see if your e-mail has been received you will be answered by the same means to communicate your e-mail is received correctly. if you do not receive. You have to send it again
7. QSL , QRZ.COM, E-QSL, LOTW 
8-privilage of the log until the day October 11, 2017
ERC President                                                  ERC Manager
EB5AG-MANOLO                                                   EA8IM-TOÑO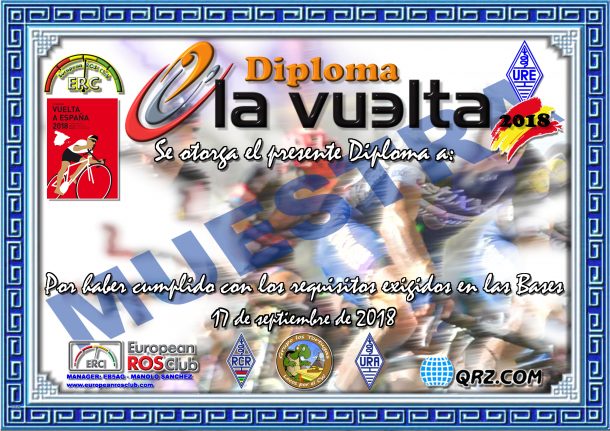 Un año mas el grupo ERC saca al aire el indicativo especial EG5VCE para dar a conocer al mundo unos de los deportes mas importantes de españa
LA VUELTA CICLISTA DE ESPAÑA 2018
Se ha confeccionado un diploma para esta actividad
Dar las gracias por su participacion:
GRUPO LOS TORTUGAS
URE
QRZ.COM
RADIO CLUB LA RIOJA
UNIO DE RADIO AFICIONADOS DE ALICANTE
BASES
1- Fecha de participación del

 24 de agosto hasta el 17 septiembre de 2018

 en todas la bandas de HF de 10 a 160 metros 
2- Modos    

DIGITALES

,

SSB,CW-DMR-TG-EA5
3- Estación especial EG5VCE 
4-  Para conseguir el DIPLOMA MIXTO hay que contactar con la estación especial con  indicativo

 

EG5VCE 
4  Los contactos deben ser EN DIFERENTES DIAS  se puede repetir la banda y el modo pero no el mismo día. 
 Para la estaciones de  

ESPAÑA 5 contactos en cualquier banda y modo 
– Resto de estaciones

del MUNDO 2 contactos en cualquier banda y modo. 
5 Hay que mandar un E-mail con su indicativo, , nombre  apellidos para la confección del diploma, así como los datos de los diferentes contactos
6.-  Para saber si su E-mail se ha recibido se le contestará por el mismo medio  comunicarte que se recibio su e-mail correctamente. si no lo recibes. tiene que mandarlo nuevamente 
7.-

 

QSL , QRZ.COM, E-QSL, LOWT, 
8-

Rececion de los log hasta el dia 11 de octubre de 2018
ERC President                                                  ERC Manager
EB5AG-MANOLO                                                   EA8IM-TOÑO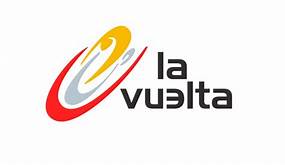 RECORRIDO VUELTA A ESPAÑA 2018
Etapa
Fecha
Salida
Meta
Kms
1ª
Sábado, 25 de agosto
Málaga
Málaga
8 (CRI)
2ª
Domingo, 26 de agosto
 Marbella
Caminito del Rey
163,9
3ª
Lunes, 27 de agosto
Mijas
Alhaurín de la Torre
182,5
4ª
Martes, 28 de agosto
Vélez-Málaga
La Alfaguara
162
5ª
Miércoles, 29 de agosto
Granada
Roquetas de mar
188
6ª
Jueves, 30 de agosto
Huércal-Overa
San Javier
153
7ª
Viernes, 31 de agosto
Puerto Lumbreras
Pozo Alcón
182
8ª
Sábado, 1 de septiembre
Linares
Almadén
195,5
9ª
Domingo, 2 de septiembre
Talavera de la Reina
La Covatilla
195
Lunes, 3 de septiembre | 1ª Jornada de descanso | Salamanca
10ª
Martes, 4 de septiembre
Salamanca
Fermoselle
172,5
11ª
Miércoles, 5 de septiembre
Mombuey
Luintra
208,8
12ª
Jueves, 6 de septiembre
Mondoñedo
Estaca de Bares
177,5
13ª
Viernes, 7 de septiembre
Candás
La Camperona
175,5
14ª
Sábado, 8 de septiembre
Cistierna
Les Praeres. Nava
167
15ª
Domingo, 9 de septiembre
Ribera de Arriba
Lagos de Covadonga
185,5
Lunes, 10 de septiembre | 2ª Jornada de descanso | Cantabria
16ª
Martes, 11 de septiembre
Santillana del Mar
Torrelavega
32,7 (CRI)
17ª
Miércoles, 12 de septiembre
Getxo
Monte Oiz
166,4
18ª
Jueves, 13 de septiembre
Ejea de los Caballeros
Lleida
180,5
19ª
Viernes, 14 de septiembre
Lleida
Andorra
157
20ª
Sábado, 15 de septiembre
Andorra
Coll de la Gallina
105,8
21ª
Domingo, 16 de septiembre
Alcorcón
Madrid
112,3