COMMEMORATION DAY DIPLOMA Battle of Carabobo
1. The certificate may be requested by any amateur and SWL who is a member of EUROPEAN ROS CLUB.
2. Can anyone get a diploma certifying a minimum of 3 contacts in different seasons of Venezuela
3. The diploma will be awarded in ROS MODE.
4. QSO shall be valid between June 13 at 00:00 UTC and June 30 at 23:59 UTC, 2015.
5. The application will be bands of 2, 6, 10,11, 12, 15, 17, 20, 30, 40, 80 or 160 meters, and in the manner set out in Section 3. If the contacts are valid OPERA so.
6. The lists must be sent by Adif or Cabrillo format to address; .diplomas @ europeanrosclub.com
7. The diploma will be sent by e-mail in DIN A4 size in JPEG format or printed on photo paper,
8. These rules are not final and can be modified at any time by the organization of the diploma whenever there are grounds for it. Decisions taken by the organization of diploma, for correct operation must be complied with by the participant.
Presidente                           Manager                                Cordinador Venezuela
EA5HJY-Manolo               EA3DUF-Diego                    YV5MM-Manuel
ERC#006                              ERC#0234                                 ERC#007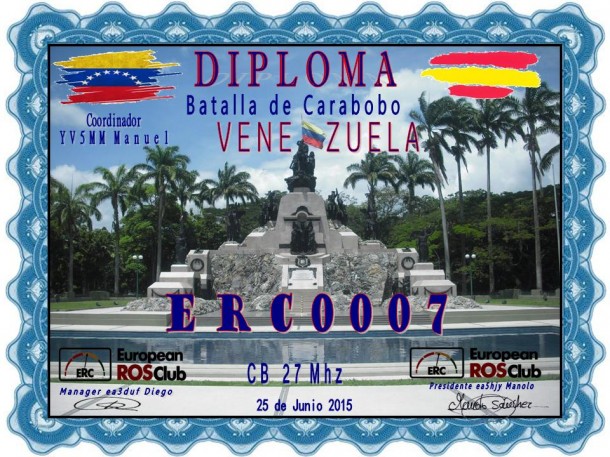 DIPLOMA CONMEMORACION DIA DE LA BATALLA  DE CARABOBO
1.- El diploma podrá ser solicitado por cualquier radioaficionado y SWL que sea miembro de EUROPEAN ROS CLUB.
2.- Podrá obtener el Diploma todo aquel acredite un mínimo de 3 contactos en diferentes estaciones de Venezuela
3.- El diploma se concederá en MODO ROS
.
4.- Serán válidos los QSO realizados,entre el 13 de Junio  a las 00:00 horas UTC y el  30 de Junio a las 23:59 horas UTC de 2015.
5.- Las bandas de aplicación serán las de 2, 6, 10,11, 12, 15, 17, 20, 30, 40, 80 ó 160 metros, y en el modo expuesto en el punto 3. SI serán válidos los contactos de modo OPERA.
6.-Las listas tienen que enviarse por en formato Adif o Cabrillo a la dirección;.diplomas@europeanrosclub.com
7.-El diploma se remitirá por e-mail en tamaño DIN A4 en formato JPEG o  impreso en papel fotográfico,
8.-Estas bases no son definitivas y pueden ser modificadas en cualquier momento por la organización del diploma siempre que existan motivos para ello. Las decisiones que adopte la organización del  diploma, para el correcto funcionamiento del mismo, deberán ser acatadas por el participante.
Presidente                           Manager                                    Cordinado de Venezuela
EA5HJY-Manolo               EA3DUF-Diego                     YV5MM-Manuel
ERC#006                              ERC#0234                                       ERC#0o7